Joe Farrell
December 16, 1937 – January 10, 1986
| | |
| --- | --- |
| Instrument | tenor sax, flute |
| Birthplace | Chicago Heights, IL |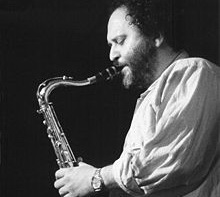 Joe Farrell is principally remembered as one of the most versatile musicians of his time. His mastery of a wide variety of woodwind instruments was paralleled by the vast diversity of musical styles and settings in which he played. Best known as a tenor and soprano saxophonist and flautist, Farrell also played alto and baritone saxophones, piccolo, alto and bass flutes, oboe, English horn, clarinet, and bass clarinet.
Born Joseph Firrantello in Chicago, Farrell began on flute at an early age. He was already established as a saxophonist on the Chicago scene by the time he moved to New York in 1960 at age 22. At that time he joined Maynard Ferguson's big band; they recorded his only big band composition, Ultimate Rejection. Also in the early to mid-'60s, Farrell played with many other jazz masters including Charles Mingus, George Russell and Kenny Dorham. He was a member of Thad Jones and Mel Lewis' big band from 1966 to '71; during this time he made his first recording with Chick Corea, the latter's debut album as a leader, "Tones For Joan's Bones." It was his work with Corea that really brought Farrell recognition, especially the 1972 Corea albums "Return To Forever" and "Light As A Feather."
Though he worked as a studio musician throughout the '70s with a wide variety of fusion, pop and blues musicians, he remained a consummate jazz player and composer, as shown by his own albums such as the classic 1972 "Moon Germs." Joe spent the last decade of his life mostly in Los Angeles, where he continued to work with Chick Corea and record in many different settings.