Don Lanphere
June 26, 1928 – October 9, 2003
| | |
| --- | --- |
| Instrument | tenor sax |
| Birthplace | Wenatchee, WA |
Available Leadsheets
Stop

- Don Lanphere

Latin (medium)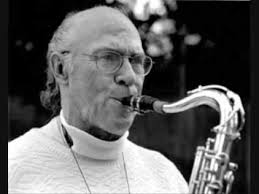 Adept at tenor saxophone, alto saxophone, and alto clarinet, Don Lanphere was a prominent saxophonist and educator with two distinct phases of his career. A young prodigy, Lanphere began playing professionally at age 13. At 17, he sat in with Jimmie Lunceford's Orchestra when they came through his hometown.
While studying music at Northwestern University, Don Lanphere joined Johnny Bothwell's band moved with them to New York. He parted ways with them soon after and joined trumpeter Fats Navarro and drummer Max Roach; his recordings with them are the ones for which he is best known. In 1949, he joined the Woody Herman band, followed by a stint with Artie Shaw's orchestra. He gigged intermittently with the bands of Claude Thornhill, Sonny Dunham, Billy May and Charlie Barnet. He recorded with Charlie Parker during this period as well.
In 1951, Don Lanphere moved back to his hometown, where he ran his father's music store. In 1969, he became a born-again Christian and returned to playing. In 1982, he made a full comeback and signed with Scottish label Hep Records, with whom he released several well-received albums, such as "Don Loves Midge" in 1984. In 1996, he moved to Origin Records. He became a renowned educator in the Pacific Northwest known for his clinics and small groups as well as appearances at jazz workshops. He inspired the (then up-and-coming) pianist Marc Seales and trumpeter Jon Pugh in particular. He continued to perform and record until his death in 2003.