Brown's Town

– Kenny Dorham

A stop-time medium swinger originally recorded by Kenny Dorham with sax icon Joe Henderson. Our "K.D. Challenge" version has Minus You tracks for all instruments.
Recording:

Joe Henderson - In 'n Out

Recorded on:

April 10, 1964

Label:

Blue Note (BLP 4166)

Concert Key:

E-flat minor

Vocal Range:

, to

Style:

Swing (medium)
Trumpet - Kenny Dorham
Tenor Sax - Joe Henderson
Piano - McCoy Tyner
Bass - Richard Davis
Drums - Elvin Jones
Several Kenny Dorham compositions begin with a call from the horns with a response by the rhythm section.
Brown's Town
is a notable example of this, with a distinct "snap" to its stop-time due to the paired 16th-notes in both the melody and rhythm section figures. There is almost a rhythmic inversion between the call, which has two 16th-notes at the end of a pickup leading to the downbeat, and the response which begins with two 16th-notes. The bridge of this 32-measure AABA head is played with a "floating" triplet-based feel. As with
Back Road
, the changes in the stop-time A sections move around in half-steps; in this song the same motion is used for the solos, which swing with a 4-feel throughout.
"In N' Out"
was recorded at the legendary
Van Gelder Studio
in Englewood Cliffs.
"
In 'n Out
" was the penultimate recording by Joe Henderson and Kenny Dorham. Bassist
Richard Davis
played on all three Henderson/Dorham albums recorded in 1964; the other two are Andrew Hill's classic "Point Of Departure", recorded in March of that year with Eric Dolphy, Hill, and Tony Williams, and Kenny's September 1964 album "
Trompeta Toccata
" with Tommy Flanagan and Tootie Heath.
Recording:

Don Sickler - The K.D. Challenge

Recorded on:

October 6, 2001

Label:

jazzleadsheets.com (JLS 1033)

Concert Key:

E-flat minor

Vocal Range:

, to

Style:

Swing (medium)
Trumpet - Don Sickler
Alto Sax - Bobby Porcelli
Piano - Cecilia Coleman
Bass - Tim Givens
Drums - Vince Cherico
Recording:

Harold Danko - Escapades

Recorded on:

January, 2008

Label:

SteepleChase (SCCD 31674)

Concert Key:

E-flat minor

Vocal Range:

, to

Style:

Swing (medium)
Piano - Harold Danko
Bass - Michael Formanek
Drums - Jeff Hirshfield
In a piano trio setting or piano/bass duo, Brown's Town works great as a bass feature. Because the rhythm section plays the hits together in response to the horn melody in the original quintet arrangement, these hits work just as well with piano and drums—or only piano. Apart from the trio instrumentation, Harold Danko's version is arranged almost the same as the original Kenny Dorham recording. However, the hits are simplified here, with a quarter note on beat 2 instead of two sixteenth notes.
Don Sickler:
"I hadn't seen bassist Michael Formanek for a number of years until he was recently at the Van Gelder Recording Studio for a couple of sessions. I checked my files to see if I could find any recordings Michael played on, that contained songs we publish, and, to my delight, up jumped
Kenny Dorham
's
Browns's Town
and
Escapade
, which is on this same trio recording."
As you'll hear, Brown's Town can also be a great Bass feature.

If you get our C bass clef lead sheet, you'll have what you need to play Brown's Town as a Bass feature, as bassist Michael Formanek has on this piano trio recording. On this trio recording, the bass plays the melody for all three A sections of the melody, with the piano playing the bridge melody.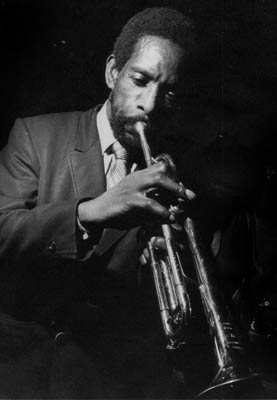 August 30, 1924 – December 15, 1972
Trumpeter/composer Kenny Dorham was very much on the jazz scene from the mid-1940s through most of the 1960s. He worked and recorded with all the major figures in the modern jazz movement, which includes the legendary Billy Eckstine big band, Dizzy Gillespie, Art Blakey, Bud Powell, Charlie Parker, Thelonious Monk and Max Roach as well as Kenny Clarke, Sonny Stitt, Fats Navarro, J.J. Johnson and many other giants of that period. Read more...