Brookfield Andante

– Cecil Payne

A bright-toned 3/4 song with a 68-measure form. Cecil recorded it in quartet and sextet settings; the same lead sheet works for both versions.
All selected items will be available for download after purchase.
Recording:

Cecil Payne - Brookfield Andante

Recorded on:

November 5, 1966

Label:

Spotlite (SPCP2)

Concert Key:

B-flat

Vocal Range:

, to

Style:

3/4 swing (medium up)
Bari Sax - Cecil Payne
Piano - Joe Palin
Bass - Alan Cooper
Drums - Ron Parry
3/4 meter works well with longer song forms, and Brookfield Andante is a good example of this. Its 68-measure form is AABC, with 16-measure A and B sections; C is like A but adding a four-measure tag. The melody has a bright sound, entirely diatonic in the A section; it is slightly reminiscent of Freddie Hubbard's Up Jumped Spring. The changes begin with an alternation between B♭7 and A♭7, getting to F7 at the eighth measure; the second half of the A section stays on Cm7/F for six measures and finishes on the tonic. The bridge modulates to A♭, G♭, and F, alternating Fmaj7 and G♭maj7 twice before the final II-V7; the melody here develops one phrase, a long note followed by a brief rhythmic figure. Both versions end by vamping one measure each of B♭maj7 and A♭7.

This recording begins with Cecil playing the A sections rubato (our clip starts with the out melody A); unaccompanied at first, with the piano coming in on the 7th measure of the first A, dropping out at the start of the the second A, and then entering again in the 6th measure of that section. Bass and drums come in, in tempo, for the B and C sections; Cecil plays a different melody on this first bridge. The bass plays with a 1-feel. After this chorus, Cecil plays the melody again in time throughout, with the bridge melody as written. At the end, he solos over the coda vamp. The quartet setting gives Cecil liberty to embellish his melody and change the rhythms a little.

Both recordings shown here would use the same lead sheet.
This live recording comes from Club 43 in Manchester, England. It is the first recording of all three members of this local rhythm section. Alan Cooper and Ron Parry accompanied trumpeter Carmell Jones on another recording from Club 43 the following year. Cecil Payne didn't play on any studio recordings in 1966, but he did play with Randy Weston at the Monterey Jazz Festival in September; the recording of that performance was released on Verve.
All selected items will be available for download after purchase.
Recording:

Cecil Payne - Cerupa

Recorded on:

June 1-2, 1993

Label:

Delmark (DE 478)

Concert Key:

B-flat

Vocal Range:

, to

Style:

Swing (uptempo)
Trumpet - Odies Williams III
Tenor Sax - Eric Alexander
Bari Sax - Cecil Payne
Piano - Harold Mabern
Bass - John Ore
Drums - Joe Farnsworth
This sextet version again begins rubato, but this time the rhythm section holds out the chords throughout the two A sections. Our audio clip begins on the out melody A. The changes are slightly different: B♭maj7 is played in the first and third measures instead of B♭7, though sometimes it is simply a B♭ triad. In the rubato A sections, B♭maj7 and A♭7 are held for two measures each instead of alternating measures. Cecil sets up the tempo in the last four measures of the second A section, with the other horns coming in on the bridge. The bass walks here. There is an interlude added before each solo: eight measures of B♭-A♭7 vamp, with the piano soloing. The three horns improvise together on the coda vamp.
Brookfield Andante
is one of four Cecil Payne compositions on the "
Cerupa
" album which Cecil had recorded before. The others include
Follow Me
(coming soon) as well as the title track, which had appeared on Cecil's 1973 album "Brooklyn Brothers." One other song on "Cerupa" has a guest appearance from tumpeter Freddie Hubbard, who never otherwise recorded with Cecil.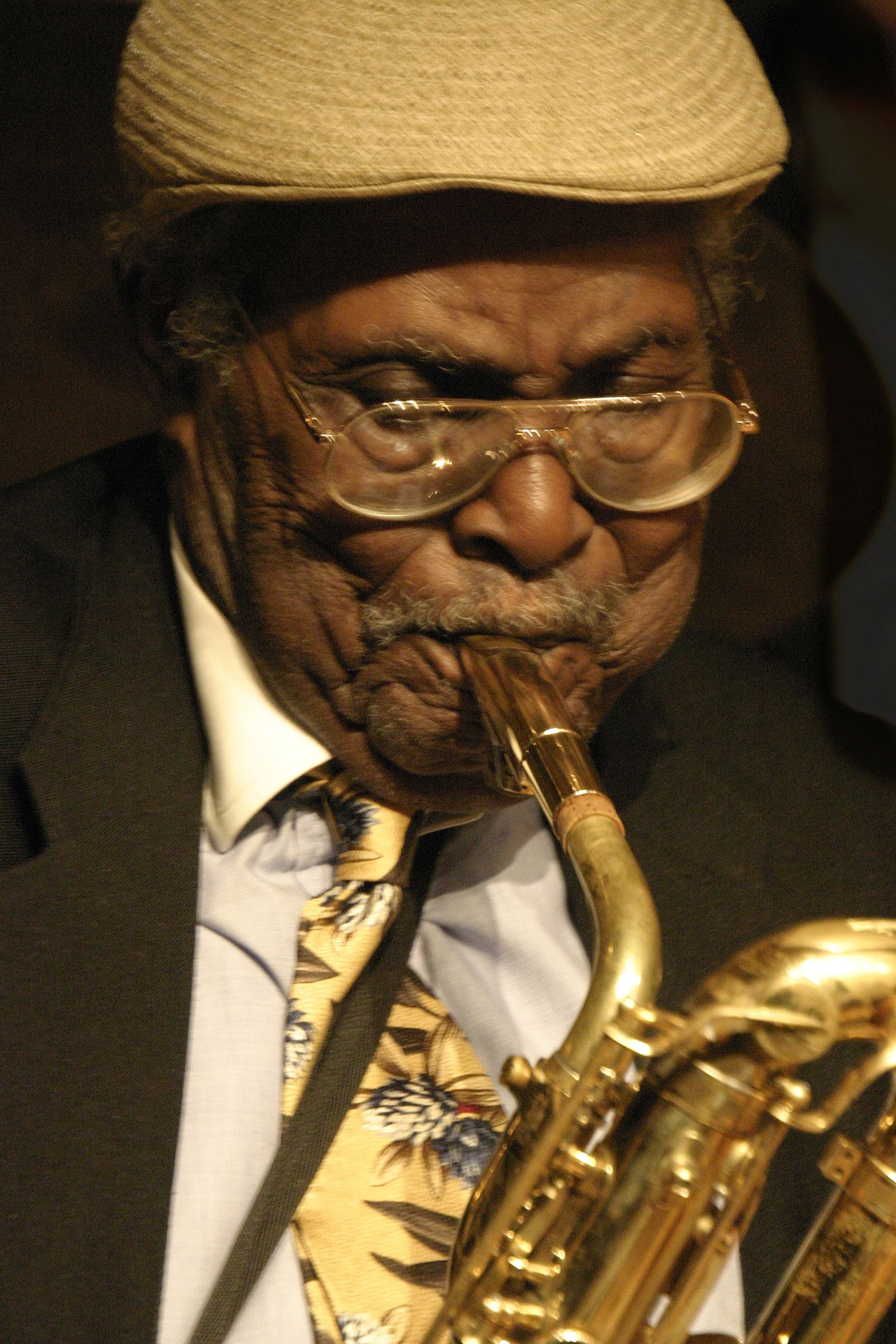 December 14, 1922 – November 27, 2007
Baritonist extraordinaire, Cecil Payne is regarded as one of the most inimitable saxophonists of the bebop era. After receiving his first saxophone, an alto, when he was 13, Payne began gigging in local New York City groups. He made his record debut for Savoy in support of trombonist J. J. Johnson. Read more...