Valery Ponomarev
| | |
| --- | --- |
| Instrument | trumpet |
| Birthplace | Moscow, Russia |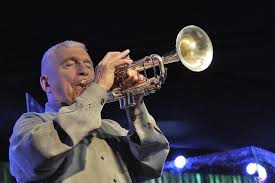 One of the first Russians to make a big name in the American jazz scene, Valery Ponomarev is a trumpet virtuoso whose hard bop style is enjoyed worldwide. Valery was first introduced to jazz during his youth while watching the television program "Voice of America." He was particularly entranced by trumpeter Clifford Brown and dedicated years of his life transcribing and studying great jazz trumpet solos. His hard worked paid off: not only was he able to record regularly in the USSR under the Melodiya label, but after he left the country in 1973, it didn't take long for him to be offered a spot in Art Blakey's Jazz Messengers. During his four years with the Messengers, Valery appeared on eleven albums and toured worldwide.
Since then, Valery has made a name of his own as a solo artist. He has recorded eight albums as a leader of his own band, Universal Language, the most recent being "Beyond The Obvious". His career has included extensive travels; he has two solo world tours under his belt and has also played a critical role in developing the Russian jazz scene, including a featured appearance in the First International Jazz Festival in Moscow in 1990.
The influence of Clifford Brown has remained an important part of his career: he played Clifford's parts at the legendary 1991 Clifford Brown Memorial Concert and featured Brown's music on a European tour with saxophonist Harold Land. Other work includes numerous television and film credits -- "To Tell The Truth" (PBS), "Frozen In Amber" (documentary), and a National Geographic documentary about Valery's life, "Messenger From Russia." He continues to perform, teach and compose in New York City today.