Ray Brown
October 13, 1926 – July 2, 2002
| | |
| --- | --- |
| Instrument | bass |
| Birthplace | Pittsburgh, PA |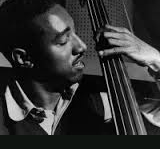 Ray Brown can be viewed as the paragon of the jazz bassist. His exceptionally driving yet steady sense of time is responsible for unleashing some of the most profound grooves in the history of the music. Brown's remarkable technical facility and harmonic sophistication enabled him to craft compelling bass lines that supported and shadowed the soloists' every move, no matter what direction they chose to go. In addition, Ray Brown is an innovator; he took Jimmy Blanton and Oscar Pettiford's conception and modernized it by increasing the length of his quarter note so that it reached its full value.This combination of smooth, long quarter notes with immense rhythmic intensity became the gold standard and a required treatment for bassists from the bebop era up to the modern day.
Brown's career took flight when he joined Charlie Parker's band in 1945, playing regularly with Bird, Dizzy Gillespie, Bud Powell and Max Roach. Ray moved on to start working with Ella Fitzgerald, but his most important association occurred when he started to play with Canadian pianist Oscar Peterson. The Oscar Peterson Trio became hugely successful, touring internationally and releasing well over a hundred albums between 1950-1965.
After his years with Peterson, Ray moved out to Los Angeles and became a dominant force in the commercial studio scene there throughout the mid to late '60s and '70s. By the 1980s Brown had come back heavily as a sideman with the likes of vibist Milt Jackson, but he also came into his own as a bandleader, leading a number of long-standing piano trios. He first featured pianist Gene Harris and drummer Jeff Hamilton, eventually with Benny Green, Geoff Keezer and others . He insisted on featuring younger musicians while providing thrilling arrangements for the band to play. The career of Ray Brown is truly one to study and treasure for he mastered all facets of his instrument, played with the greatest players in the history of this music, and yet also dedicated himself to the noble cause of nurturing, promoting and educating younger musicians within his own trio. Ray Brown's influence is so profound that it can literally be felt every day in jazz as he continues to be one of the most often studied, imitated and cherished musicians. He compels us to be confident, daring and swinging as much as we possibly can.