Kenny Drew, Jr.
June 14, 1958 – August 3, 2014
| | |
| --- | --- |
| Instrument | piano |
| Birthplace | New York, NY |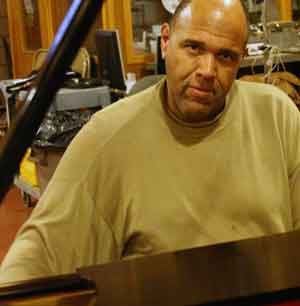 Kenny Drew, Jr., son of pianist/composer Kenny Drew, Sr., started music lessons at the age of four. He studied classical piano with his aunt Marjorie, but soon found he enjoyed playing jazz as well. He performed worldwide with a comprehensive variety of musicians, including Stanley Jordan, OTB, Stanley Turrentine, Slide Hampton, the Mingus Big Band, Steve Grossman, Yoshiaki Masuo, Sadao Watanabe, Smokey Robinson, Frank Morgan, Daniel Schnyder, Jack Walrath, Ronnie Cuber and many others.
Kenny was the winner of the 1990 Great American jazz Piano Competition in Jacksonville, Florida. He has appeared as a leader at many major festivals, including the Jacksonville Jazz Festival, Kyoto Jazz Festival, Savannah on Stage Festival, Clearwater Jazz Festival and the Newark Jazz Festival. Kenny also performed as a leader at many major jazz clubs around the country. He recorded many albums as a leader and also made numerous recordings as a sideman. See and hear amazing clips of Kenny's playing at his MySpace page and on YouTube
.
Kenny Drew, Jr., had exceptional gifts as a pianist. He developed incredible sight reading abilities and was able to master anything put in front of him almost immediately. He had thorough musical knowledge and tremendous technical facility. He was truly one of our great pianists, as well as a gifted composer.