Chuck Wayne
February 27, 1923 – July 29, 1997
| | |
| --- | --- |
| Instrument | guitar |
| Birthplace | New York, NY |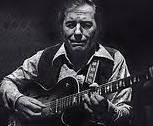 Born Charles Jagelka, New Yorker Chuck Wayne was a jazz guitarist, composer and arranger noted for distinctive bebop style and legato technique. He became an expert in the banjo, mandolin and balalaika as a child, focusing on swing. He was heavily influenced by classical music in addition to jazz. He became prominent in the early 1940s on NYC's 52nd Street and in Greenwich Village where he made the transition to bebop. Influenced by Oscar Moore and Charlie Christian, and horn players of the day like Coleman Hawkins and Charlie Parker, Chuck made his way into Woody Herman's big band and later worked with trumpeter Dizzy Gillespie, spreading the bebop revolution with recordings like Groovin' High and Blue 'n' Boogie.
Chuck was the first guitarist to play with George Shearing. In the '50s he recorded as a leader for the Progressive label, and later made several more of his own albums for other labels. He was active in the NYC area, teaching and working on Broadway; he was even a staff musician for CBS-TV. He was also noted for duo performances in the New York City area with fellow guitarists Joe Puma, Tal Farlow and vibraphonist Warren Chiasson.
As his style developed, he made more use of complex contrapuntal improvisation, another distinctive facet of his technique. Many generations of performers were heavily influenced by Wayne's playing and instruction. His talent as a teacher was recognized when he was appointed to an adjunct professor position at the College of Staten Island. His analytical and revolutionary approach to guitar chords and arpeggios was documented in a series of guitar books published by Second Floor Music.
Chuck worked with an extensive list of performers including Sarah Vaughan, Frank Sinatra, Barbra Streisand, Coleman Hawkins, Jack Teagarden, Claude Thornhill, Lester Young, Tadd Dameron, Sonny Berman, Stan Getz, Woody Herman's First Herd, Jo Jones and Tony Bennett, for whom he served as musical director. He was one of the first and only modern jazz guitarists to double on banjo.