Cecil McBee
| | |
| --- | --- |
| Instrument | bass |
| Birthplace | Tulsa, OK |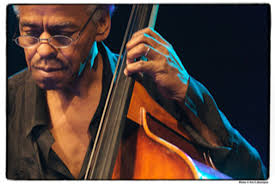 Cecil McBee has been on the jazz scene for many years; he always plays marvelously in any style. Cecil is a true master of bass lines. His ballad accompaniment is exceptional, and studying and comparing his base lines on several recordings of his beautiful ballad Close To You Alone is a mind-opening experience.
From the time he first arrived in New York City in 1964, Cecil McBee has remained one of the most in-demand bassists in jazz, appearing on hundreds of influential recordings as well as in clubs and concert halls throughout the world. During this same span of five decades, McBee has also become a celebrated composer and teacher, leading his own ensembles and earning a distinguished professorship at the New England Conservatory in Boston, where he has taught for over 25 years.
McBee started playing the upright bass at the age of 17 and quickly became a sought after voice on his instrument. Following his music studies at Ohio Central State University, the bassist spent two years in the army, conducting the band at Fort Knox. In 1959 he performed with Dinah Washington and moved to Detroit, where his engagement with Paul Winter's ensemble in 1963–64 brought him eventually to his adopted home, New York City. Within two years McBee had recorded landmark sessions with such major figures as Wayne Shorter, Jackie McLean, Andrew Hill, and Sam Rivers, and held the bass chair in Charles Lloyd's extraordinary quartet with Jack DeJohnette and Keith Jarrett.
Since that time he has recorded and toured with many of the greatest contemporary jazz artists, including Miles Davis, Yusef Lateef, Pharoah Sanders, Archie Shepp, Freddie Hubbard, Woody Shaw, Alice Coltrane, McCoy Tyner, Mal Waldron, Kenny Barron, Joanne Brackeen, Abdullah Ibrahim, Art Pepper, Anthony Braxton, Elvin Jones, Clifford Jordan, Chet Baker, and Johnny Griffin. McBee has also recorded seven albums as a leader of his own ensembles.
Many of the touring groups and recordings on which McBee has appeared have also featured his exceptional compositions; Charles Lloyd's breakthrough album, "Forest Flower," released in 1966, includes McBee's now standard ballad, Song Of Her. Among his other most-recorded tunes are Peacemaker, Slippin' N Slidin', Blues On The Bottom, Consequence, and another often-recorded ballad, Close to You Alone.
With the drummer Billy Hart, McBee is the core of the rhythm section in two different longstanding groups of iconic artists, Saxophone Summit and The Cookers, each of which perform and record many of McBee's more recent and classic compositions.
For nearly four decades, Cecil McBee has been teaching privately and at distinguished colleges and universities, including artist in residence at Harvard from 2010 to 2011. Throughout this time, he has been refining his teaching techniques and developing an instruction book for the double bass that is revolutionary in its approach and widely applicable to improvisation for every instrumentalist.