Aggression

– Booker Little

Open-ended and forward-thinking, a classic from Booker Little's last live recording.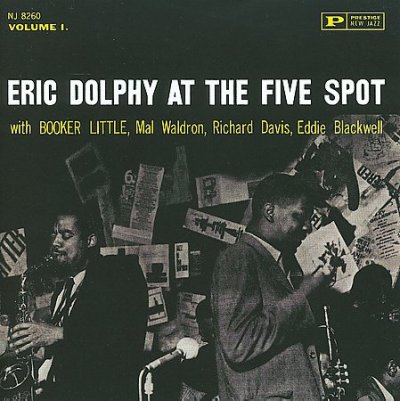 All selected items will be available for download after purchase.
Recording:

Eric Dolphy - At The Five Spot, Vol. 2

Recorded on:

July 16, 1961

Label:

Prestige (PTLP 7294)

Concert Key:

C minor

Vocal Range:

, to

Style:

Swing (uptempo)
Trumpet - Booker Little
Bass Clarinet - Eric Dolphy
Piano - Mal Waldron
Bass - Richard Davis
Drums - Ed Blackwell
Fast and driving as befits the title, with a strong, simple melody, this song is based around an eight-measure vamp on a G pedal point. Though the melody is 48 measures long (eight-measure A, B, and C sections played twice each), every eight-measure section of the form has the same chord progression. There is an intro setting up the vamp
clip
; the piano voicings for the first time through are indicated in the C lead sheet. The G(♯9♯5♭5) chord in the third measure is so called because it lacks a seventh; otherwise, as written elsewhere in the same part of the vamp, it is a G7alt. With such a simple vamp to solo over, the chords can be stretched however you want; the whole thing can be interpreted as a modal, C melodic minor texture.
On the recording, after the solos the horns improvise together on the vamp before playing the A, B and C sections. The C section is repeated a few more times and "breaks down," becoming rubato and freely interpreted.
This recording of Dolphy and Little from the Five Spot is considered one of the highlights of their brief careers, particularly Little's. The two had first recorded together less than a year earlier, on Dolphy's album "Far Cry." Their other recordings together are all from 1961: Abbey Lincoln's "Straight Ahead" (February), Little's "Out Front" (March and April), John Coltrane's "Africa/Brass" (May), and also, after the Five Spot gig, Max Roach's "Percussion Bitter Sweet" in August.
The rhythm section from this recording got back together in October of 1986 to perform a tribute to Dolphy and Little, with Terence Blanchard on trumpet and Donald Harrison on reeds. A recording from this performance is the only other definitely known recording of this song.
For more from this Five Spot show, check out
Booker's Waltz
and
Bee Vamp
.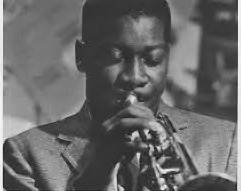 April 2, 1938 – October 5, 1961
A tragic loss to the world of jazz at age 23! Hearing is certainly believing: in Booker's short life, he still was able to leave us with recordings and compositions that are guaranteed to astonish and captivate. His effortless-sounding virtuosity ranks him as one of the greatest trumpet players. He was also a gifted composer, who obviously took composing very seriously, as his recording output shows. Booker began on trumpet when he was 12 and played with Johnny Griffin and the MJT + 3 while attending the Chicago Conservatory. He worked with Max Roach (1958-1959) and then freelanced in New York. He recorded with Roach and Abbey Lincoln, was on John Coltrane's Africa/Brass album, and was well-documented during a July 1961 gig at the Five Spot with Eric Dolphy. Booker Little led four sessions before his tragic early death. Read more...