Wisconsin Primitiv

– Ethan Iverson

A rather experimental Latin song from Ethan's first album. Like Dewey Eyed, Dewey Played [coming soon], the melody is played mostly in unison with no chords.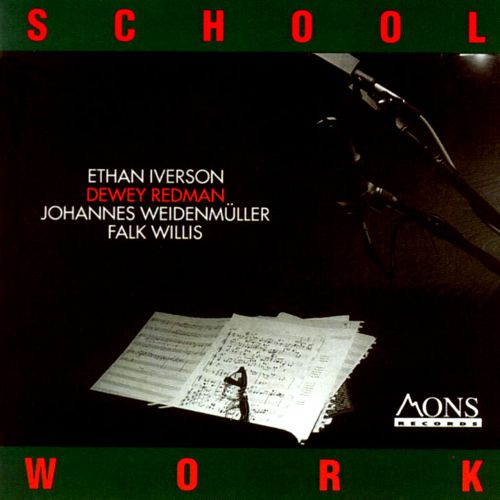 All selected items will be available for download after purchase.
Recording:

Ethan Iverson - School Work

Recorded on:

April 10, 1993

Label:

Mons Records (CD 1900)

Concert Key:

A minor

Vocal Range:

, to

Style:

Latin (medium up)
Tenor Sax - Dewey Redman
Piano - Ethan Iverson
Bass - Johannes Weidenmueller
Drums - Falk Willis
This song is quite unusual not particularly in what it has, but in what it doesn't have. There are no chords played during the melody, which has everyone playing in unison (and/or octaves) until the last four measures. This melody is spare, elegant, and very simple; it leaves a lot of space for the groove, which in this case is most similar to a slow samba. The lack of any harmony in the head gives it a sparse, modern feeling.

The arrangement begins right on the head with the piano, tenor saxophone, and bass all in unison over a Latin drum beat. Ethan Iverson takes the first solo—a lyrical, sensitive improvisation that contrasts with the stark head. Dewey Redman's tenor saxophone solo focuses less on melodic lines and more on exploring the various timbres he can elicit from his saxophone. Ethan doesn't provide any harmonic accompaniment to Dewey, even though he does for himself; this allows Dewey to freely explore harmonically distant keys. The final head out is arranged the same way as the first head, with piano, saxophone, and bass in unison. The arrangement ends with a freely improvised coda that fades out.

There are really only two melodic ideas in the 35-measure form. The opening four-measure phrase, repeated twice, is followed by another repeated four-measure phrase with a similar rhythm, less obvious in key center. Four measures of solo drums then introduce the opening phrase again, a 7th up in G minor, repeated one and a half times to create a six-measure phrase. The next phrase is five measures long, developing a contrasting descending phrase; this leads to the last four measures where the opening melodic line appears as a bass line. The solos add a simple chord progression to the head form, with no dominant chords and almost all minor chords. The four-measure drum fill is not a part of the solo form, creating a 31-measure chorus. The last measure of I (the penultimate, five-measure section) is a break in the solo chorus.

Our combined Piano and Bass part shows the melody in two staves in octaves, as it is played on the recording. The melody and bass line split off at the end of the head, as shown clearly on this part.
The name of this composition pays homage to Ethan's home state—he grew up in Menomonie, Wisconsin. This piece is from his first album, "
School Work,
" which was released in 1993, seven years before he formed the trio The Bad Plus, whose jazz interpretations of popular songs and classical compositions propelled him, and the group, to fame. Ethan was only 20 years old when School Work came out, but had already developed a sophisticated, rhythm-driven style of composition made evident by
Wisconsin Primitiv.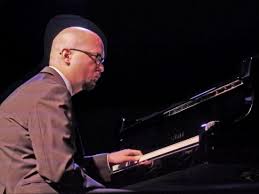 born on February 11, 1973
Ethan Iverson is a pianist, composer, and critic best known for his work in the avant-garde jazz trio The Bad Plus with bassist Reid Anderson and drummer Dave King, although he left the group in late 2017. Read more...