This Joker's A Smoker

– Jon Davis

A simple—but fast!—12-measure song based on a rhythm section pedal point. It's been recorded several times; we have a "Jon Davis Trio" Rhythm Section Workshop version with Minus You tracks for piano, bass, and drums.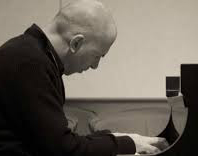 born on July 22, 1957
Jon Davis is a pianist and composer based in New York. He has performed with and contributed compositions to many of the top jazz musicians worldwide throughout his career, which has spanned over 35 years, and has recorded several albums as a leader. Jon took up piano and guitar as a young teenager; he was inspired to play jazz after hearing records of Red Garland and Miles Davis. He briefly studied with Lennie Tristano then attended New England Conservatory, where his teachers included Ran Blake, Jaki Byard, and Madam Chaloff. After six months, he left to begin gigging around Boston. Read more...