Silk

– Norman Simmons

As smooth as the title implies, this medium-slow "rhythm changes" variant is a charming example of Norman's hard bop writing style. The only recording, by Norman and bassist Daryl Johns (only 15 years old at the time!), is exclusively available from jazzleadsheets.com.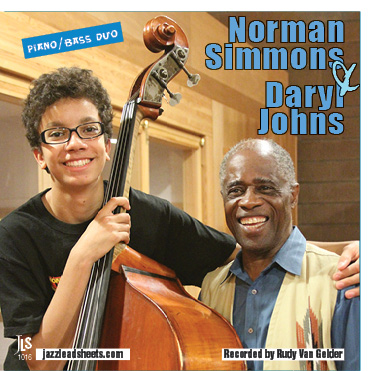 All selected items will be available for download after purchase.
Recording:

Norman Simmons - Norman Simmons - Daryl Johns Duo

Recorded on:

August 6, 2011

Label:

jazzleadsheets.com (JLS 1016)

Concert Key:

B-flat

Vocal Range:

, to

Style:

Swing (medium)
Piano - Norman Simmons
Bass - Daryl Johns
The purpose of our Piano/Bass Duo recording is two-fold. First, it introduces you to another great Norman Simmons composition that you can play in any instrumental format with our lead sheet editions. Secondly, our Duo recording shows you that this composition also sounds great with the Bass playing the melody, adding another feature for bass players.

This song takes "rhythm changes" at a laid-back tempo. The melody has plenty of attitude, beginning with an ascending triplet line and riffing back down; in the sixth measure, the return to the tonic is a quick run down a bluesy diminished chord. The second half of the form is not as closely based on "rhythm changes": the bridge goes to D major and C major, and the first four measures of the C section adapt the A section melody to fit with four measures of dominant 7ths ascending (two beats each) from B♭ up to F. This section gets stretched out to ten measures, with a tag putting in another bluesy lick to launch a two-measure break. On the solos, the C section is eight measures long. There is a four-measure intro, a classic swing-style descending I-VI-II7-V-I. The coda vamps on the last two measures before the break, ending with a solo break and chord.

On the recording, the bass plays the melody throughout. The piano accompaniment on the A-sections is essentially in the stride style. The intro is solo piano, and the coda has the bass riffing with piano fills and a final bass solo break.

Both the piano and bass parts are available in the Piano/Bass Duo Score; check the Bass Corner tab for more details .

One particularly interesting melodic/harmonic relationship in this song is in the second measure of the head. The chord on beat 3 is C♯ diminished, but the melody note tied over from the "and" of beat 2 is F♯ (G♭). Though it does not create a lot of dissonance with the chord, this note is actually part of a line that implies a different harmonic motion. Instead of using C minor to C♯ diminished to get to D minor, as the changes do, the melody indicates a motion like E♭ major to E♭ minor to D minor.
"Norman Simmons - Daryl Johns Duo"
was recorded at the legendary
Van Gelder Studio
in Englewood Cliffs.
According to Norman, "Silk" was a nickname used when he was growing up in Chicago to refer to someone who had it all together: hip and slick, elegantly dressed, popular with the ladies.
Silk
the song kind of tips along, it has a sense of humor to it. Not a heavy blues, it just sort of rolls along, like rolling a ball down the street, kind of lighthearted.
Bass Melodies (Daryl Johns, bassist)
Quite the appropriate moniker, Silk can refer to a number of elements of the piece as well as to its overall aesthetic. The chordal voice leading is phenomenally secure and wise, allowing for a "Silky Smooth" journey through the harmonies. The melody uses well-placed chromatic passing tones, enabling for a smooth approach that connects the chord tones to each other.

There is a lot to gain specifically for the advancing bass player. To start, the left hand is required to become actively involved in articulation. Take, for example, the triplet pattern in the opening bar of each section. Without controlled left hand slurs, the silky texture will be diminished. Studying how to slur these series of triplets will give the player heightened expressive abilities, for this can be an excellent contrast to the generally more right-hand dominated approach. Players such as Red Mitchell and John Patitucci are known for their mastery and well-placed utilization of left hand slurs within their solos. Daryl's slurs are indicated in the Bass part of the Duo score.

Also, take note of the Coda section. Daryl does a masterful job of articulating with his left hand here, so much so that the notes pop out as much as if they were plucked, and they're always right in the pocket!

Silk is a great study because it require the performer to be fluent in all keys, as modulations are plentiful. The added dexterity and harmonic familiarity will strengthen musicianship and can be gained directly by working at this piece. Lastly, besides the aforementioned left hand phrasing, the player will have to tune up their right hand as there are accents throughout that need to be brought out in the texture. Control of each side must be in order for a successful performance and the attention to detail needed here will ratchet up the level of whomever plays it. Also, the style that Johns has on this piece is important to note. He harkens back to another era, with his woody sound and bluesy articulations that hit you right at your core. This is an exigent element that helps to capture the essence of what Mr. Simmons wrote, as he is a distinguished master of the warm blues-drenched feel that has given so much to jazz!

Note: We've kept the melody the way Norman wrote it, but take notice of how Daryl embellished it. He takes liberties and adds some new notes; Please feel free to play this song your way!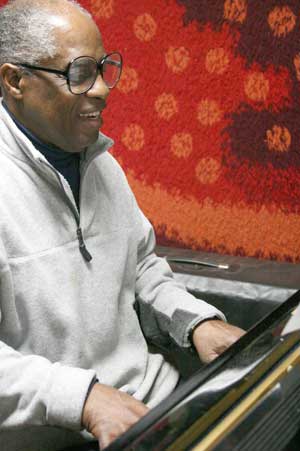 October 6, 1929 – May 13, 2021
Accomplished soloist, accompanist, composer and educator, Norman Simmons is well known as a pianist with an great ability to connect with jazz singers. Born in Chicago, Simmons taught himself piano and at age sixteen enrolled in the Chicago School of Music. He formed his own group in 1949 and began recording in 1952 when he worked as a house pianist for Chicago clubs The BeeHive and the C&C Lounge. During this period, his first recordings were under the leadership of tenor saxophonists Claude McLin, Paul Bascomb and Coleman Hawkins. Read more...