Riff Raff

– Grachan Moncur III

A simple yet profound modal blues. Grachan Moncur's transcribed trombone solo is available in C bass clef, C treble clef and B-flat editions.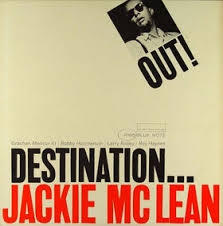 All selected items will be available for download after purchase.
Recording:

Jackie McLean - Destination . . . Out!

Recorded on:

September 20, 1963

Label:

Blue Note (BLP 4165)

Concert Key:

D minor

Vocal Range:

, to

Style:

Swing (medium)
Trombone - Grachan Moncur, III
Alto Sax - Jackie McLean
Vibes - Bobby Hutcherson
Bass - Larry Ridley
Drums - Roy Haynes
This blues is based around one simple figure which is displaced, so that it falls at different points in the measure. The changing rhythmic emphasis gives the theme a different meaning each time it is restated, making Riff Raff simple, but not at all boring. Grachan avoids the typical blues harmonic structure, instead relying on the I and IV chords, which give a modal feeling to the piece. Our melody audio excerpt starts with the horn entrance and continues through the entire head.

"Destination Out"
was recorded at the legendary
Van Gelder Studio
in Englewood Cliffs.
Grachan wrote three of the four tracks on Jackie McLean's critically acclaimed release "
Destination . . . Out!
"
Riff Raff
is the final track on this album. Unlike the "out" compositions Grachan contributed to the rest of the album, this chart is more of a conventional post-bop blues. The solos elicited from each member of the quintet (except Haynes, but check out his comping throughout!) show their superior abilities, making the album a critical hit for both Jackie and Grachan.
Transcribed Trombone Solo:
Grachan Moncur is a master of melodic solos: there's never an out-of-place note in his choruses and everything seems as intentional as if it were a composition in its own right. His four-chorus solo
trombone
on
Riff-Raff
is a great example of this masterful style and is well-worth a study by any trombonist. The solo transcription is in bass clef for trombone, and also treble clef (up an octave) and B-flat. Our audio excerpt for the solo fades in from the end of a great Jackie McLean solo.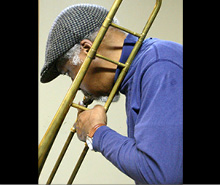 June 3, 1937 – June 3, 2022
Grachan Moncur has been one of the leading jazz trombonists throughout the past fifty years. He has played with many jazz legends including Ray Charles, Wayne Shorter, Blue Mitchell and Jackie McLean. Moncur first learned the cello at the age of nine. Inspired by his father, bassist Grachan Moncur II, who played with the likes of the Savoy Sultans, Billie Holiday and Dinah Washington, he turned to the trombone at the age of eleven. He began attending the Laurinburg Institute, honing his skills and attending shows where he sat in with drummer Art Blakey and alto saxophonist Jackie McLean. While studying at the Manhattan School of Music and Julliard, he began performing as a leader with greats including Wayne Shorter, Gary Bartz and Blue Mitchell. He took part in two classic Jackie McLean albums, "One Step Beyond" and "Destination Out," contributing multiple compositions. He recorded two albums as a leader for Blue Note: "Evolution" with McLean and Lee Morgan and "Some Other Stuff" with Herbie Hancock and Wayne Shorter. Read more...