Pensive

– Al Cohn

A ballad by saxophone master Al Cohn, mainstay of countless sessions, composer/arranger extraordinaire.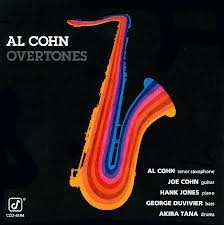 All selected items will be available for download after purchase.
Recording:

Al Cohn - Overtones

Recorded on:

April 19, 1982

Label:

Concord (CJ 194)

Concert Key:

D-flat minor

Vocal Range:

, to

Style:

Ballad
Tenor Sax - Al Cohn
Guitar - Joe Cohn
Piano - Hank Jones
Bass - George Duvivier
Drums - Akira Tana
This is a gorgeous Al Cohn ballad. Al Cohn is one of our great composers and arrangers, with a tremendous melodic and harmonic vocabulary as evidenced by this beautiful melody that continually evolves over its 34-measure AABA form. The last A section is 10 measures. Our melody excerpt is from Al's original recording (see note regarding availability in the Historical Notes section). We've included links to a few of the versions that are available online.

Al Cohn first recorded this composition in 1982 on his "Overtones" album. Unfortunately, this recording is currently not available as a download, but I'm working on getting Concord to make this and the whole album available as downloads. If you already have the CD, I'm sure you'll agree that it's a great album, with stellar musicians. It's also the first and only recording of Al with his son, guitarist Joe Cohn, and it contains several more great Al Cohn compositions.
Four months after the "Overtones" session, Charlie Byrd recorded a multiple guitar version of
Pensive
in the key of D, a half step down from the original key, on a live session, "At Charlie's Georgetown," In 1988, guitarist
Howard Alden
recorded it (in the original key) in a duo context with bass. In 1991, alto saxophonist Phil Woods recorded it for the first of his three recordings of the composition, on his "Full House" recording for Milestone Records. Alto saxophonist
Herb Geller
recorded it in a duo context with piano in his 1994 album "Herb Geller Plays The Al Cohn Songbook."
We also want to bring to your attention two additional recordings of
Pensive
by Phil Woods that are available as downloads. The first, in 2000,
Phil Woods with The Italian Rhythm Machine (feat. Stefano Bollani)
, and the most recent, in 2010,
Dialogues With Christopher
, where Phil accompanies himself on piano.
Don Sickler: "Al's ballad is so beautiful, so heavy with harmonic complexity, I ask my arranging students to orchestrate it. No one can hurt it; it can withstand maltreatment from any student."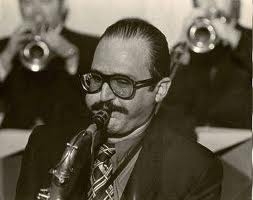 November 24, 1925 – February 15, 1988
Al Cohn, born in Brooklyn, NY, went on to become not only a brilliant jazz tenor saxophonist, but an arranger, leader and sideman par excellence. From the "Al Cohn Memorial Jazz Collection," East Stroudsburg University of Pennsylvania website: "His career in jazz spanned more than 45 years. He performed with the bands of Henry Jerome, Joe Marsala, Georgie Auld, Alvino Rey, Buddy Rich, Woody Herman, Artie Shaw, Elliot Lawrence and others. Many of the arrangements used by these bands were written by Al, and he also arranged for Gerry Mulligan, Quincy Jones, Terry Gibbs and Jimmy Rushing. Read more...