New Beginnings

– Steve Nelson

A simple, melodic uptempo song with a standard-like sound. Rhythm section hits and a two-measure tag serve to spice it up. Steve recorded it twice at different tempos.
All selected items will be available for download after purchase.
Recording:

Steve Nelson - Live Session One

Recorded on:

July, 1989

Label:

Red Records (123231-2)

Concert Key:

E-flat, No key center

Vocal Range:

, to

Style:

Swing (uptempo)
Alto Sax - Bobby Watson
Vibes - Steve Nelson
Piano - Donald Brown
Bass - Curtis Lundy
Drums - Victor Lewis
One of Steve Nelson's simpler, more melodic compositions, this uptempo song has a 34-measure ABCD form with the C section having similar changes to the A section - but a different melody. Though the changes gravitate toward Eb major in several places, our lead sheets have no key signature. The changes begin with a descending series of II-V7s, similar to Steve's song
Shape Shifting
or Bud Powell's
Oblivion
, but with only the first II chord (Am7) having a flat 5th; all the others are basic minor 7ths. The form ends with a classic deceptive cadence, a II-V7 in E♭ going to E major to harmonize the melody note E♭; the last chord is held out for four measures instead of the expected two, and this tag is retained in the solo form. On the head, the rhythm section has hits on the "and" of beat 1 and on beat 3 in most of the A and C sections; the melody fills the space between each measure's hits. There is also a pedal point on beats 2 and 4 in the first half of the D section.
This album and its companion "Live Session 2" come from performances in Acireale, Sicily. Also in 1989, Steve recorded his first studio album as a leader, "Communications." Steve and
Bobby Watson
also recorded together earlier in the '80s on Bobby's album "Jewel" (1983) and Curtis Lundy's "Just Be Yourself" ('85). Watson and
Donald Brown
have so far never played together in a studio recording. Steve Nelson, however has played on seven of Brown's albums including the first, "
Early Bird"
.
All selected items will be available for download after purchase.
Recording:

Steve Nelson - New Beginnings

Recorded on:

December 1-2, 1997

Label:

TCB (99302)

Concert Key:

E-flat, No key center

Vocal Range:

, to

Style:

Swing (medium up)
Vibes - Steve Nelson
Piano - Mulgrew Miller
Bass - Peter Washington
Drums - Kenny Washington
This later version is slightly slower, but has the same arrangement. The four measures of Emaj7 at the end of each solo chorus are played with a loose 1-feel.

The bassist/drummer combination of Peter Washington and Kenny Washington is often found rehearsing at the jazzleadsheets.com studio in NYC. The two first recorded with pianist Mulgrew Miller on this album; in 1999 they recorded with trumpeter Randy Sandke and later with the vocalist Antoinette Montague. This is the only time all three recorded with Steve Nelson.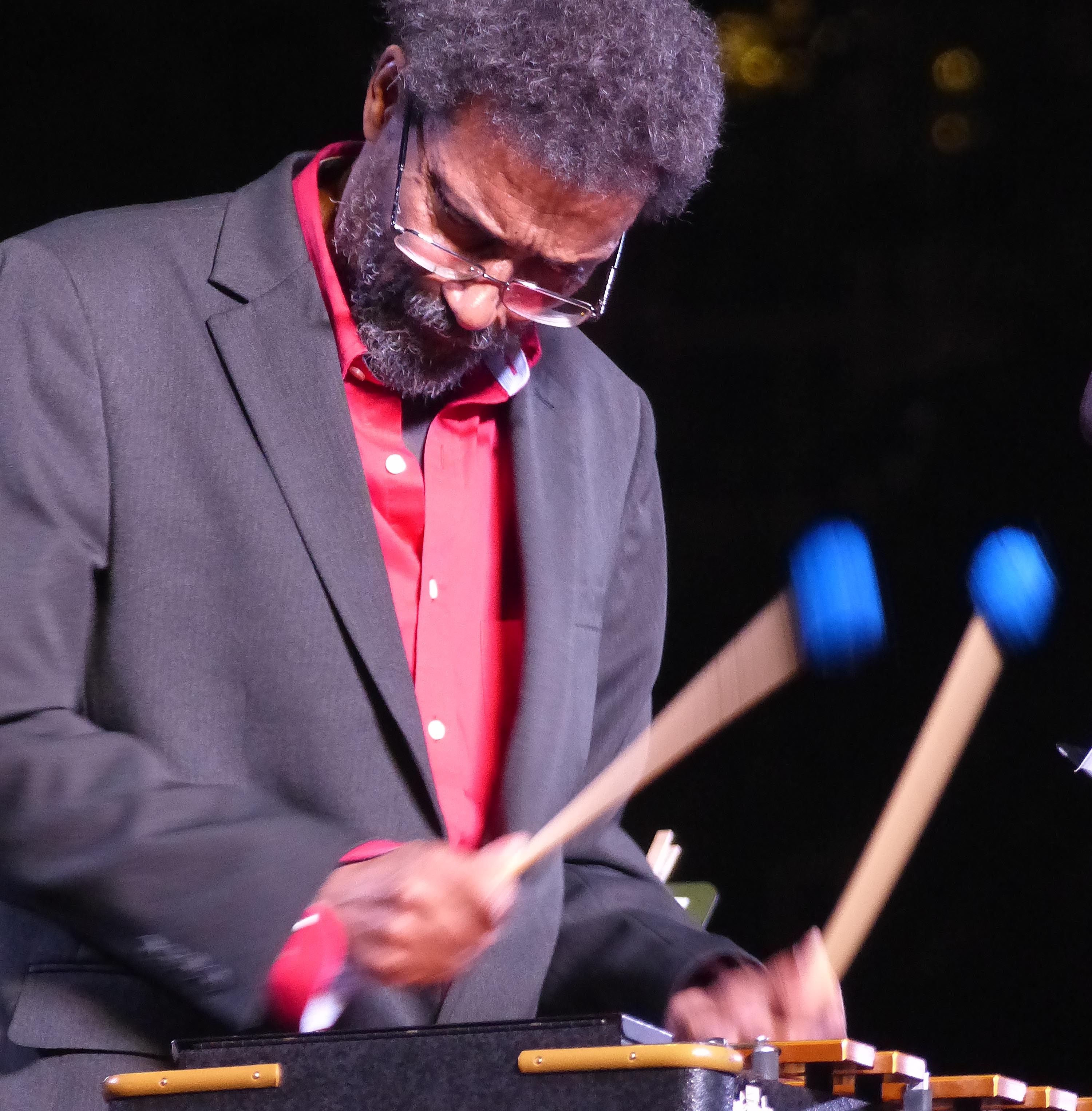 born on August 11, 1954
Vibraphonist Steve Nelson's career began in the early 1970s. His first touring experience was with the legendary guitarist Grant Green. Steve cites Milt Jackson as his first major influence, although in later years he developed a harmonically open sound influenced by Bobby Hutcherson. While attending the State University of New Jersey at Rutgers then-new jazz program, he met pianist Kenny Barron, drummer Freddie Waits, guitarist Ted Dunbar and reedman James Spaulding, who were all faculty members. Through them, he began to perform in New York City. In 1976, at age 22, Steve recorded with James Spaulding ("Plays The Music Of Duke Ellington"), and in 1980 recorded albums with Kenny Barron and Ted Dunbar. Read more...