Mama Flosie

– Al Cohn

A charming, folksy medium-up 3/4 song. It's also been recorded by Al's son, guitarist Joe Cohn. The two-saxophone arrangement played by Al Cohn and Zoot Sims is available, in addition to lead sheet editions.
All selected items will be available for download after purchase.
Recording:

Al Cohn - Body And Soul

Recorded on:

March 23, 1973

Label:

Muse (MR 5016)

Concert Key:

B-flat

Vocal Range:

, to

Style:

3/4 swing (medium up)
Tenor Sax - Al Cohn, Zoot Sims
Piano - Jaki Byard
Bass - George Duvivier
Drums - Mel Lewis
Folksy and almost gospel-esque, this medium-up 3/4 song has a distinctive charm. The A section melody is largely pentatonic, with 8th-note lines recalling Charles Mingus' Better Get Hit In Your Soul. The form is 40 measures: 16-measure A, 8-measure B, and 16-measure C the same as A. The B section has a contrastingly simpler melody, and the only modulation in the song: the fifth and sixth measures of this section have a resolution to D♭. The changes are otherwise diatonic, with a lot of stepwise root motion, inversions, and a strategically placed Edim7 in the fourth measure.

Our lead sheets show the basic melody and changes; they come from Al Cohn's original manuscript.

In addition we have first and second saxophone parts (plus concert editions) for the quintet arrangement on this recording. Al and Zoot start the melody in unison; the last four measures of the A section introduce a countermelody, simpler than the melody here but continuing into the bridge where it fills in around the long notes of the melody.

There is an eight-measure rhythm section intro, with a piano melody shown in our first and second quintet parts. After the out head there is a coda with a two-measure solo piano break followed by a variation of the last melody phrase. Jaki Byard plays a wild, jangly fill in this coda that just barely implies the changes of the last four measures of the head.
"
Body And Soul
" was the fifth of seven studio albums by Al Cohn and Zoot Sims' quintet. Al wrote an arrangement of
Mama Flosie
for Gerry Mulligan's Concert Jazz Band, but this was never recorded. Two other two-tenor quintet albums include versions of this song in tribute to Al and Zoot. The first, "To Al And Zoot With Love," was recorded in 2008 and features Lew Del Gatto and Bob Keller. The other was recorded a year later by English tenor saxophonists Karen Sharp and Robert Fowler on their album "Brandy And Beer."
All selected items will be available for download after purchase.
Recording:

Joe Cohn - Marathon Man

Recorded on:

2014

Label:

Vega Music (00002)

Concert Key:

B-flat

Vocal Range:

, to

Style:

3/4 swing (medium up)
Guitar - Joe Cohn
Organ - Joe Bagg
Drums - Akira Tana
Joe Cohn's version of Mama Flosie is quite a bit slower than his father's. He plays a slightly different melody on the bridge, and the changes are also different in a few places. For example, the second measure has B♭7/D instead of D7 to resolve to E♭maj7. The seventh measure has G♭7 instead of C7. This recording starts with a rubato organ intro, followed by a two-measure drum fill in time to set up the melody. The ending tags the last four measures, ritarding into the last chord followed by a IV-I cadence.

For our lead sheet editions, we've written the melody where it sounds, so the B-flat lead sheet works perfect for Trumpet players and the C treble clef lead sheet works for piano, vibes, violin, etc, Al's two-tenor quintet arrangement has both parts an octave higher where the tenors would read them, and the quintet C treble clef editions are where the Guitar would read them.
"
Marathon Man
" is Joe Cohn's only organ trio album so far. Three songs on this album also feature tenor saxophonist Dayna Stephens, whose album "New Day" includes a session with the same personnel. Most of Joe Cohn's albums as a leader or co-leader feature at least one of his father's compositions.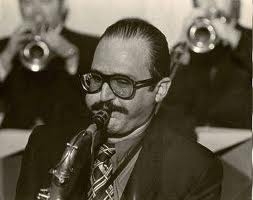 November 24, 1925 – February 15, 1988
Al Cohn, born in Brooklyn, NY, went on to become not only a brilliant jazz tenor saxophonist, but an arranger, leader and sideman par excellence. From the "Al Cohn Memorial Jazz Collection," East Stroudsburg University of Pennsylvania website: "His career in jazz spanned more than 45 years. He performed with the bands of Henry Jerome, Joe Marsala, Georgie Auld, Alvino Rey, Buddy Rich, Woody Herman, Artie Shaw, Elliot Lawrence and others. Many of the arrangements used by these bands were written by Al, and he also arranged for Gerry Mulligan, Quincy Jones, Terry Gibbs and Jimmy Rushing. Read more...