Line Up

– Paul Gonsalves

A clever melody over rhythm changes.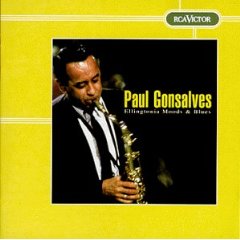 All selected items will be available for download after purchase.
Recording:

Paul Gonsalves - Ellingtonia Moods & Blues

Recorded on:

February 29, 1960

Label:

RCA (F) (731071)

Concert Key:

B-flat

Vocal Range:

, to

Style:

Swing (medium)
Trumpet - Ray Nance
Alto Sax - Johnny Hodges
Tenor Sax - Paul Gonsalves
Trombone - Mitchell "Booty" Wood
Piano - Jimmy Jones
Bass - Al Hall
Drums - Oliver Jackson
Tenor sax man Paul Gonsalves loved to play on "rhythm changes." He created this clever single line melody (played in octaves by the horns). Our audio excerpt starts right on the horn melody. Notice the difference in horn phrasing for the quarter notes in measures 2 and 6 of the A sections. We've indicated these first and third beat quarter notes as long notes, since that's the way Paul plays them, as opposed to the trumpet and trombone, who play the notes short. The eight-measure rhythm section intro [piano and bass completely notated, bass playing Latin figure, while drums swing (4-feel)] moves into a 2-feel "rhythm changes" rhythm section chorus with light piano soloing which leads to the horn melody. The recording ends with eight measures of rhythm section. The bass part is indicated in the C treble clef lead sheet.

Paul, a long-time Ellington sideman, would do as many recording sessions as he could around the Ellington band performances and recordings. After Duke's "Ellington And His Award Winners" session (December 2, 1959), Paul did an Ernie Wilkins session on January 11, 1960, and his own "Ellingtonia Moods & Blues" session (February 29). His next Ellington recording was the first session of the famous "Nutcracker Suite" (May 26).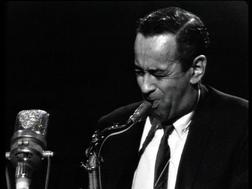 July 12, 1920 – May 15, 1974
A unique and very individual tenor saxophonist, Paul Gonsalves was born in Boston, MA, and raised in Pawtucket, R.I. Back in Boston, he was featured with the Sabby Lewis band, and after Army service (1942-1945) he made his first recording with Sabby Lewis in March 1946. Later that year he joined the Count Basie band, replacing Illinois Jacquet. He made his first official recording with Basie on January 3, 1947. He remained with Basie into 1949, then joined Dizzy Gillespie's bop-oriented big band later that year, recording with them on November 21, 1949, and January 9, 1950. Read more...