Karioka

– Kenny Dorham

A hard-driving medium-up composition that K.D. never recorded, Karioka comes from an early Freddie Hubbard album. A full set of parts are available for this quintet arrangement.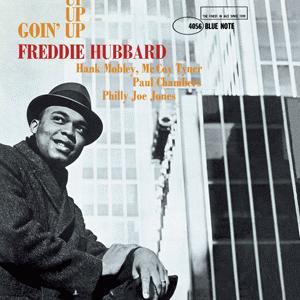 All selected items will be available for download after purchase.
Recording:

Freddie Hubbard - Goin' Up

Recorded on:

November 6, 1960

Label:

Blue Note (BLP 4056)

Concert Key:

E-flat minor

Vocal Range:

, to

Style:

Swing/Latin (medium up)
Trumpet - Freddie Hubbard
Tenor Sax - Hank Mobley
Piano - McCoy Tyner
Bass - Paul Chambers
Drums - Philly Joe Jones
This medium-up song has a real kick to it due to the varied rhythm section figures and alternation between Latin and swing sections. The intro is four measures long, with rhythm section stop-time; because there is no hit on the downbeat of the first measure, it sounds more like a three-measure intro with a pickup. The A section begins with four measures of more rhythmic melody with rhythm section figures followed by four measures of more active melody over a Latin groove. Though the next section is notated as A2, only the first four measures are like A1, with a different, simpler melody over the groove. This melody continues through 12 measures of mostly descending II-V7s, swinging with a 4-feel, leading back to a repeat of the first A section.

Much of the harmonic motion in the A sections is stepwise, with the fifth through eighth measures containing a chromatic "walk down" of E♭m chords (triad - m(maj7) - m7 - m6).

Solos are on a 28-measure form, with changes like that of the head but without the last A section. The rhythm section plays with a 4-feel throughout each solo, with a rhythmic figure in the piano each time on the last two measures. There is an interlude played at the end of each solo, a series of rhythm section figures over the A-section changes with the last two measures a break for the next soloist. Voicings for these figures are indicated in the piano part. A related figure is used to vamp and fade out for the coda.

A concert condensed score and full set of parts are available for this quintet arrangement. In the second parts, melody cues are notated below the staff where the two horn parts have counterpoint. This is especially important in the A section: both horn parts have an eighth note on the "and" of beat 4 in the first and third measures, but only the melody note leads to the downbeat on the following measures, while the second part and rhythm section hit on the "and" of beat 1.
"Goin' Up"
was recorded at the legendary
Van Gelder Studio
in Englewood Cliffs.
Like
Hank Mobley
, Kenny Dorham subtly tailored his compositions to the styles of others who played them. This song's driving rhythmic energy is a perfect match for the precision and excitement of Freddie Hubbard's and
Philly Joe Jones'
playing. "
Goin' Up
", Freddie's second album as a leader, contains a second K.D. song,
Lotus Blossom
.
November 1960 was a busy month for Freddie—a week after this session, he recorded on Hank Mobley's classic "
Roll Call
" album, and four days after that he played on a Randy Weston big band recording session for the album "Uhuru Afrika."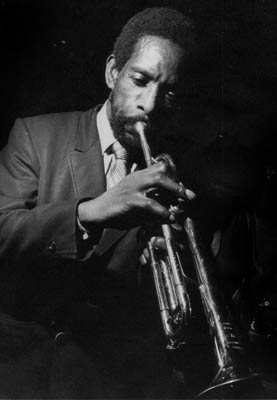 August 30, 1924 – December 15, 1972
Trumpeter/composer Kenny Dorham was very much on the jazz scene from the mid-1940s through most of the 1960s. He worked and recorded with all the major figures in the modern jazz movement, which includes the legendary Billy Eckstine big band, Dizzy Gillespie, Art Blakey, Bud Powell, Charlie Parker, Thelonious Monk and Max Roach as well as Kenny Clarke, Sonny Stitt, Fats Navarro, J.J. Johnson and many other giants of that period. Read more...