Juliano

– Julian Priester

A 32-bar medium up swing with a melody that changes and develops through II-V-I cycles.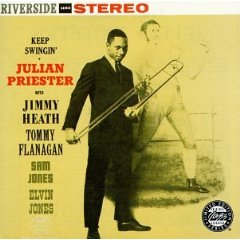 All selected items will be available for download after purchase.
Recording:

Juilan Priester - Keep Swingin'

Recorded on:

January 11, 1960

Label:

Riverside (RLP 120316)

Concert Key:

A-flat

Vocal Range:

, to

Style:

Swing (medium up)
Trombone - Julian Priester
Piano - Tommy Flanagan
Bass - Sam Jones
Drums - Elvin Jones
This is a classic Julian Priester composition. It's a 32-measure ABCD form, with the constantly evolving melody twisting and turning though different II-V-I cycles—a bar each, then a half measure each, then just some II-Vs—finally arriving back at A-flat in the D section.
This composition is known under three titles. The correct title is
Juliano.
On Julian's quartet recording it was called
Julian's Tune.
On Max Roach's "Quiet As It's Kept" album the title is shown correctly, but on a later Max Roach version the same song is listed as
Kardouba.
Check out some of Julian's other titles from this
session
.
Transcribed Trombone Solo: This is a tour de force performance by the then 24-year-old trombonist Julian Priester. After maneuvering through the anything-but-simple melody, Julian solos trombone for two complete choruses, then he plays a chorus of fours followed by a chorus of twos with drummer Elvin Jones before jumping right back into the challenging head. The exchanges are included in the Transcribed Solo.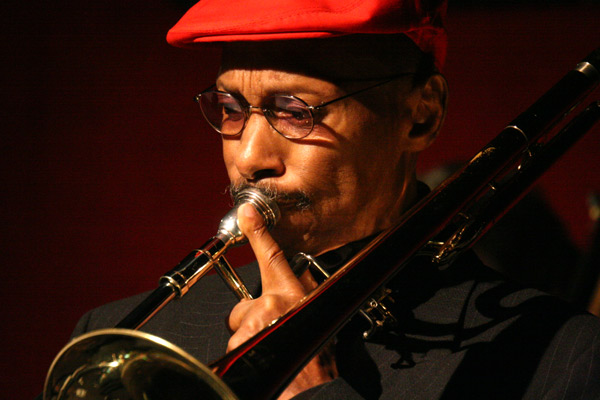 born on June 29, 1935
Julian Priester has brought a vital, spirited style of trombone playing to a wealth of artists, while contributing interesting compositions to the libraries of many of these groups. In his native Chicago, he played with bluesmen Muddy Waters and Bo Diddley, forward-looking bandleader Sun Ra, the master swing era vibist Lionel Hampton and blues-jazz singing marvel Dinah Washington. Read more...