Hipsippy Blues

– Hank Mobley

Another classic Hank Mobley "in-the-pocket groove" minor blues!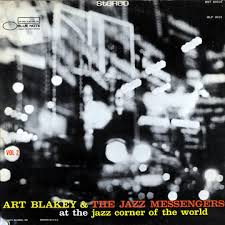 All selected items will be available for download after purchase.
Recording:

Art Blakey and the Jazz Messengers - At The Jazz Corner Of The World, Vol. 1

Recorded on:

April 15, 1959

Label:

Blue Note (BLP 4015)

Concert Key:

F minor

Vocal Range:

, to

Style:

Swing (medium)
Trumpet - Lee Morgan
Tenor Sax - Hank Mobley
Piano - Bobby Timmons
Bass - Jymie Merritt
Drums - Art Blakey
Don Sickler: "Another classic Hank Mobley "in-the-pocket groove" minor blues. Listening to our audio excerpt, which starts right at the top of the track, you'll hear that drummer Art Blakey is actually playing a shuffle beat. I've found if I put 'Medium shuffle' as the feel indication, most drummers will play a much too commercial shuffle beat, not the unique 'Art Blakey shuffle.' So I suggest, when you perform this piece, just tell the drummer, 'It's medium swing, and Blakey played "the Blakey shuffle."' See what you get. It better be swingin'!"

The horns also play a "send off" into the first soloist, which appears later as a background behind the last two piano solo choruses to set up the return to the melody.
Don continues: "For those of us who never got to Birdland to hear Art Blakey and the Jazz Messengers, this is as close as it gets. On the original recording, live at Birdland, you first hear Lee Morgan (trumpet) and Bobby Timmons noodling on the piano in the background with Blakey testing his bass drum. Birdland Master of Ceremonies Pee Wee Marquette welcomes us and introduces Blakey and 'his' Jazz Messengers and fires the audience up to welcome the musicians. Then, if you listen carefully, you hear Hank's 'uh' for four beats, and the great live performance, recorded by Rudy Van Gelder for Blue Note Records, begins."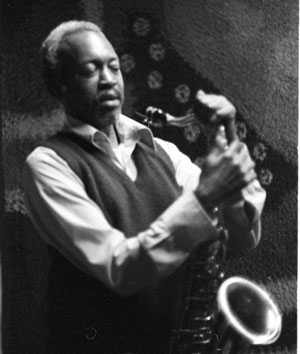 July 7, 1930 – May 30, 1986
Hank Mobley is one of the most acclaimed tenor saxophonists in modern jazz history. He is recognized by musicians and critics alike as one of the most important and eloquent jazz instrumentalists of all time. He recorded well over 100 of his own original compositions and left an indelible mark on the post-bop jazz scene. Read more...