Far Side

– Tony Reedus

An uptempo "burner" with an wide-open solo section, this song is held together by a rhythmic theme that reappears as an interlude between solos. The head also has built-in solo sections for drums and piano.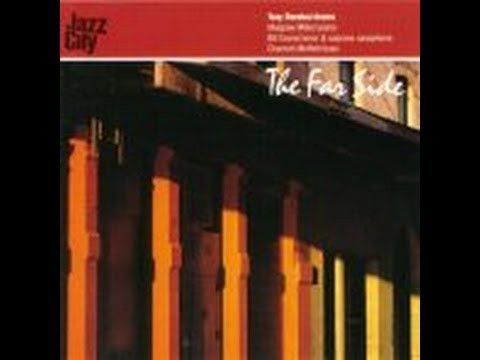 All selected items will be available for download after purchase.
Recording:

Tony Reedus - The Far Side

Recorded on:

November, 1988

Label:

Jazz City (D22Y-01316)

Concert Key:

D minor, No key center

Vocal Range:

, to

Style:

Swing (uptempo)
Tenor Sax - Bill Evans
Piano - Mulgrew Miller
Bass - Charnett Moffett
Drums - Tony Reedus
With its brief theme and open-ended solos, this uptempo "burner" can be taken in some experimental directions—to the far side, if you will. The openness starts even before the solo section, with drum and piano solos built into the head. This head is based on four measures of rhythm section hits, played twice with a four-measure drum solo in between. The beginning of the head has a scrambling eighth-note melody over the hits, with a variation the second time leading into 4-feel for 16 measures of piano solo. After this the hits are played twice again, with another four measures of drums between, but this time with the melody in rhythmic unison; the last note is held at the end for four more measures to make an even 16-measure section.

There is no written solo section; on the recording the soloists improvise in time over 4-feel without a set chord progression—"time, no changes." The last 16 measures of the head are played as an interlude between the solos; this really holds the otherwise wide-open song together.

Our lead sheets show a D minor key signature, as this tonality is somewhat suggested by the melody. The chords in the head, however, are rather complex and don't imply a key center. These chords fly by at this tempo and are a little hard to hear on the recording. Because the solos have no changes, our B♭ and E♭ lead sheets don't show the chord symbols on the head.
The late bassist Charnett Moffett's father, drummer Charles Moffett, was best known for his work with Ornette Coleman, who pioneered the "time, no changes" type of improvisation heard on
The Far Side
. The bassist was in fact named after both his father and Coleman.
This first of Tony Reedus' three albums as a leader, "
The Far Side
" features a rhythm section which first recorded together on pianist Mulgrew Miller's "Wingspan" in 1987. That album features vibraphonist
Steve Nelson
and saxophonist Kenny Garrett, who also recorded with Miller, Moffett, and Reedus on two of his own albums: "Garrett 5" in 1988 and half of "African Exchange Student" in 1990.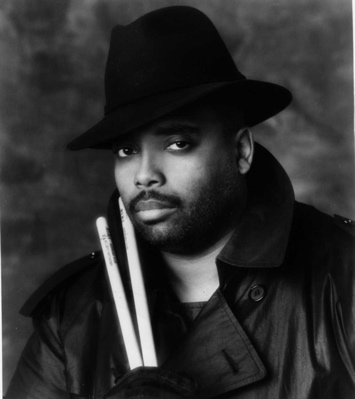 September 22, 1959 – November 16, 2008
Tony Reedus was a dynamic, animated drummer who was in demand with some of the greatest jazz masters. After a musical upbringing in the church, he first gained notoriety in the early 1980s as a member of Woody Shaw's band. It only took a matter of time for the buzz on Reedus to prosper. Read more...