Echo Of Spring

– Kenny Dorham

A relatively early Kenny Dorham composition in a melodic bebop-ish bag. It's also known as K.D.'s Cab Ride but Echo Of Spring is Kenny's title.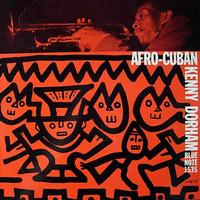 All selected items will be available for download after purchase.
Recording:

Kenny Dorham - Afro-Cuban

Recorded on:

January 30, 1955

Label:

Blue Note (BLP 1535)

Concert Key:

D-flat

Vocal Range:

, to

Style:

Swing (medium)
Trumpet - Kenny Dorham
Tenor Sax - Hank Mobley
Baritone Sax - Cecil Payne
Piano - Horace Silver
Bass - Percy Heath
Drums - Art Blakey
This medium swinger has a classic early hard bop sound, with plenty of Dorham trademarks. In keeping with this album's concept and title, the bridge on the head has a Latin groove. The A section melody manages to be largely diatonic despite a bit of harmonic trickery underneath. The changes begin quite similarly to Woody'n You with descending minor II-V7s starting on G, and though this resolves to D♭ as in that song, this one is not so direct. In the fifth and sixth measures, a minor II-V7 that would go to B♭ instead resolves to Gm7♭5, a particularly Monkish technique. The first ending has three II-V7s that lead by tritone substitution and chromatic approach back to Gm7♭5.

Also like Woody'n You (another song that frequently has a Latin groove on the bridge), the bridge of Echo Of Spring modulates to G♭—but then to E as the lyrical melody descends. The end of the head brings another surprise, with the final melody note, the tonic D♭, as the third of an Amaj7 chord. This chord is not used in the solos, but on the out head it is replaced by D♭m7—after the major key quality of the song this is essentially a "reverse Picardy 3rd."

There is a rhythmic intro with two drum fills leading into the head. Our Concert Condensed Score shows a counter melody on the bridge, played in this recording by the tenor and baritone. The latter also has a brief contrapuntal figure on the fourth measure of the A section.
This song was not issued on the original LP of "
Afro Cuban
." When it was released on CD as a bonus track, it was given the title
K.D.'s Cab Ride;
later producer Michael Cuscuna discovered the original, correct title from Blue Note owner Alfred Lion's session notes.
The rhythm section on this session first recorded together on a 1952 Lou Donaldson session which was also trumpeter Blue Mitchell's first truly jazz recording—though Mitchell had recorded alongside John Coltrane on some Earl Bostic R&B sessions earlier that year! Silver, Heath and Blakey also recorded as a trio in 1953 and with Miles Davis in '54; they reunited in January 1957 for some of Milt Jackson's album "Plenty, Plenty Soul," which, like "Afro Cuban," had
Oscar Pettiford
on bass on some of the other tracks.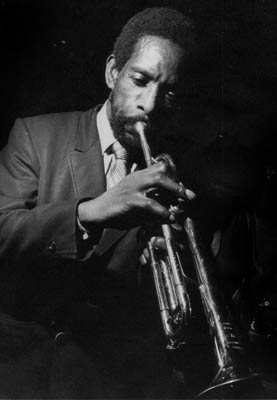 August 30, 1924 – December 15, 1972
Trumpeter/composer Kenny Dorham was very much on the jazz scene from the mid-1940s through most of the 1960s. He worked and recorded with all the major figures in the modern jazz movement, which includes the legendary Billy Eckstine big band, Dizzy Gillespie, Art Blakey, Bud Powell, Charlie Parker, Thelonious Monk and Max Roach as well as Kenny Clarke, Sonny Stitt, Fats Navarro, J.J. Johnson and many other giants of that period. Read more...