East Of The Village

– Hank Mobley

A Latin 12/8 piece with a truly classic Hank Mobley vibe.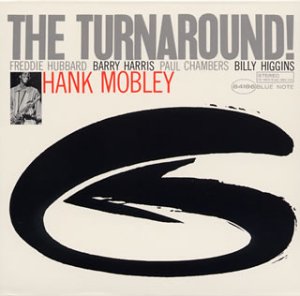 All selected items will be available for download after purchase.
Recording:

Hank Mobley - The Turnaround

Recorded on:

March 7, 1963

Label:

Blue Note (BLP 4186)

Concert Key:

F minor

Vocal Range:

, to

Style:

Latin/swing (medium)
Trumpet - Donald Byrd
Tenor Sax - Hank Mobley
Piano - Herbie Hancock
Bass - Butch Warren
Drums - Philly Joe Jones
Our audio excerpt starts with the melody. The slick one-measure 12/8 feel piano and bass vamp figures you hear under the melody are a continuation of the 8-measure rhythm section intro that starts the recorded arrangement. These piano and bass figures are clearly notated in the C treble clef lead sheet. Hank's strong unison frontline melody fits right in with the rhythm section's 12/8 Latin groove, making this classic Mobley. The chord progression in the A sections is modal, while the B section chord progression is in the bebop style. This harmonic contrast is enhanced by the Latin 12/8 groove throughout the head. The solo section alternates between 12/8 feel and swing. Overall this gives soloists plenty to sink their teeth into.

Don Sickler: "This is a "classic" Mobley composition that has its melodic roots in another Hank Mobley composition. See our historical notes for
Hank's Other Soul
for further clarification. Philly Joe Jones, on drums, recorded both titles, the only rhythm section member to do so. Philly Joe told me that he loved
Hank's Other Soul,
and when Hank presented him with
East Of The Village,
Philly Joe asked him to include it on the upcoming recording that became "
The Turnaround
" release. Joe told me Hank said that he was really thinking of another drummer, Billy Higgins, with this new composition. Philly Joe said he told Hank, 'No problem, I'll give you some Billy Higgins flavor that you'll like, so please, let's do it on this date with me.' I've explained in other historical notes for Mobley's music that Hank picked and wrote the material for each recording date specifically for the rhythm section members who would be playing it. You'll understand this thoroughly if you investigate Hank's sessions, comparing the musicians and the music they recorded."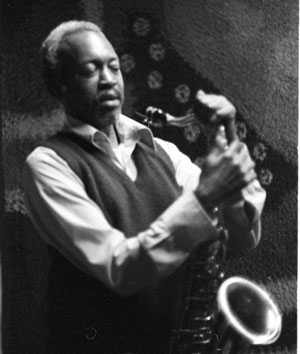 July 7, 1930 – May 30, 1986
Hank Mobley is one of the most acclaimed tenor saxophonists in modern jazz history. He is recognized by musicians and critics alike as one of the most important and eloquent jazz instrumentalists of all time. He recorded well over 100 of his own original compositions and left an indelible mark on the post-bop jazz scene. Read more...