Dio Dati

– Norman Simmons

A laid-back, simple song with a funky Latin groove. It begins in C minor but works its way around to E♭ major.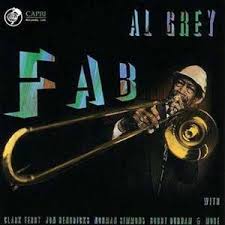 All selected items will be available for download after purchase.
Recording:

Al Grey - Fab

Recorded on:

February 2 & 7, 1990

Label:

Capri (74038-2)

Concert Key:

E-flat

Vocal Range:

, to

Style:

Latin (Bossa)
Trombone - Al Grey, Mike Grey
Alto Sax - Virginia Mayhew
Guitar - Joe Cohn
Piano - Norman Simmons
Bass - J. J. Wiggins
Drums - Bobby Durham
This song's groove is not quite a bossa; it has the sort of funky slickness that Norman excels at. On the lead sheet it's called a slow funky samba. Simple yet subtle, this song starts in C minor but ends up in E♭ major at the end. The melody is almost entirely diatonic, with a funky rhythmic riff on the first six measures. The form is ABABC, with each section eight measures long for a 40-measure chorus.

There is no E♭ major chord in root position until the very end of the form. After establishing C minor in the A section, the B section changes begin to imply E♭ major with some slick chromatic motion; B♭7 at the end of the B section leads back to C minor for the second A, and to E♭ with B♭ in the bass at the beginning of the C section. There is an intro that also establishes C minor; the coda vamps E♭ major. The piano part for the intro is notated in the lead sheet, with the bass notes also indicated.
For more from this album, check out
Midnight Creeper
.
Dio Dati
was first recorded by a big band led by drummer Les DeMerle in 1969. This earlier version is faster and funkier, based on a different C minor vamp. In fact the arrangement is mostly over the vamp, with the head appearing twice at the beginning with an ABC form instead of ABABC. After Arnie Lawrence's alto sax solo over the vamp, there is a shout chorus based on the B and C sections that leads to another vamp in E♭ minor.
According to Norman,
Dio Dati
means "God gives." Around the time this composition was written, Norman was acquainted with a young Italian woman whose family name was Diodati. Her sweet personality made the title appropriate.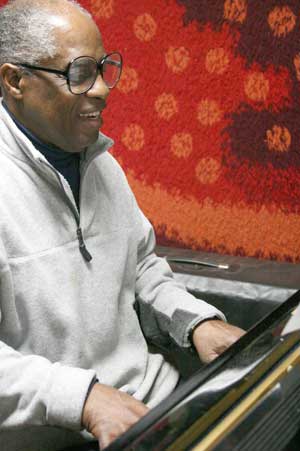 born on October 6, 1929
Accomplished soloist, accompanist, composer and educator, Norman Simmons is well known as a pianist with an great ability to connect with jazz singers. Born in Chicago, Simmons taught himself piano and at age sixteen enrolled in the Chicago School of Music. He formed his own group in 1949 and began recording in 1952 when he worked as a house pianist for Chicago clubs The BeeHive and the C&C Lounge. During this period, his first recordings were under the leadership of tenor saxophonists Claude McLin, Paul Bascomb and Coleman Hawkins. Read more...