Dewey Eyed, Dewey Played

– Ethan Iverson

Iverson's debut album opens with this tribute to special guest Dewey Redman. It's a free-jazz song in the style that Dewey perfected with Ornette Coleman in the '60s.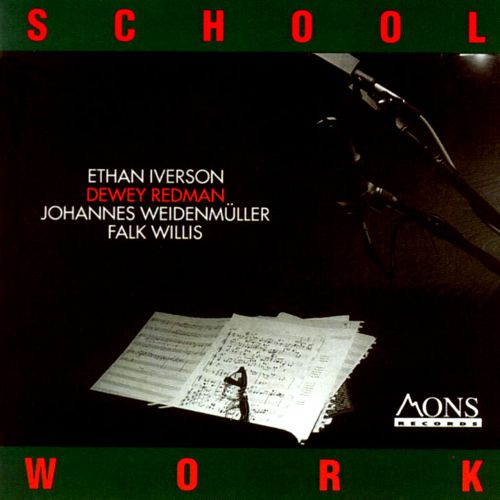 All selected items will be available for download after purchase.
Recording:

Ethan Iverson - School Work

Recorded on:

April 10, 1993

Label:

Mons Records (CD 1900)

Concert Key:

A

Vocal Range:

, to

Style:

Swing (medium up)
Tenor Sax - Dewey Redman
Piano - Ethan Iverson
Bass - Johannes Weidenmueller
Drums - Falk Willis
A free-jazz song very much in the style of Ornette Coleman, this Ethan Iverson original gets its quirky, playful mood from complex chromaticism and frequent time signature changes. The head is played entirely in unison by the whole band, meaning that there is not even a hint at a harmonic progression under the melody. The melody is a single, mostly unison line, which breaks into two-part harmony in a few places. It's a very simple, short melody—nine measures followed by a four-measure drum break and then the same nine measures with a slightly different ending. The melodic material begins relatively tonally in A major, shifting through a suggestion of C major to end in A♭; the second ending resolves back to A.

The solo section is also unusual: bass and drums accompany the soloist, but there is no piano under the tenor sax solo, giving the solo section a very open, spacious feeling around an A tonality. First Dewey Redman takes a solo on tenor sax, which is followed by a piano solo from Ethan during which he plays no chords, treating the piano instead like a horn.

Quintet adaptation. The original recording is quartet, but Ethan's piano part also orchestrates perfectly for any combination of two-front line instruments. Don Sickler: My top quintet combo at Columbia University performed it in concert with an alto sax and guitar front line.

The title of Ethan Iverson's debut album "School Work" comes from a song by Ornette Coleman, who recorded it with Dewey Redman in 1971. "School Work" is the only recording of Dewey with these players. Bassist Johannes Weidenmuller recorded alongside Iverson on two albums by trombonist Christophe Schweizer, but otherwise these players do not appear together on other recordings in any combination.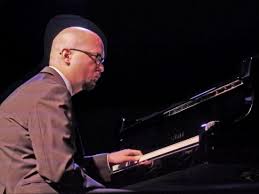 born on February 11, 1973
Ethan Iverson is a pianist, composer, and critic best known for his work in the avant-garde jazz trio The Bad Plus with bassist Reid Anderson and drummer Dave King, although he left the group in late 2017. Read more...