Wilbur Ware
September 8, 1923 – September 9, 1979
| | |
| --- | --- |
| Instrument | bass |
| Birthplace | Chicago, IL |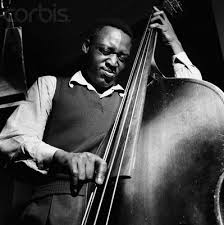 Wilbur Ware's unique approach to the function of the bass in an ensemble has inspired countless musicians to play what they hear, even if it's not the most typical approach. Ware was renowned for his idiosyncratic yet immensely swinging beat that locked down the band rhythmically, as well as his highly creative harmonic sense. Wilbur's ability to play his "own notes," as bassist Ron Carter said, distinguished him from the other practitioners of his instrument. John Coltrane stated in an interview with August Blume, "Wilbur Ware, he's so inventive . . . He doesn't always play the dominant notes . . . He's superimposing things. He's playing around, under and over, so when he comes back you feel everything set in . . . A lot of fun playing that way."
These sophisticated rhythmic and harmonic abilities helped Ware be able to perform in all formats, including the saxophone trio wherein the bass is the only harmonic instrument. His performance on Sonny Rollins' 1957 "A NIght at the Village Vanguard" is one of the foremost examples of how to deal with a challenging instrumentation and create lasting, influential music.>/p>
Ware was very active in the recording studios of the 1950s, performing on a large number of releases. Some of these include "Man Bites Harmonica!" by Toots Thielemans, Thelonious Monk's "Monk's Music" and several sessions with tenor saxophonist Johnny Griffin. While Ware's profile lessened after his 1950s heyday, his influence can be strongly felt in the works of today's bassists, including Larry Grenadier and Reid Anderson, who are not shy about breaking up the time, superimposing their own harmonies over the changes of the songs, and just generally playing like themselves.