Tommy Flanagan
March 16, 1930 – November 16, 2001
| | |
| --- | --- |
| Instrument | piano |
| Birthplace | Detroit, MI |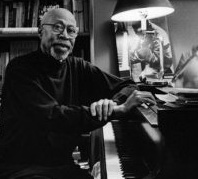 Pianist Tommy Flanagan was born in Detroit. The youngest of six children, Flanagan began as a clarinetist before switching to piano. While his early influences included older style pianists such as Art Tatum and Teddy Wilson, he was ultimately drawn to bebop and the playing of Bud Powell.
As a teenager, Flanagan began to play with other Detroit natives such as Pepper Adams, Kenny Burrell, and Frank Rosolino. He also befriended fellow Detroit pianist Barry Harris. At age 26, he moved to New York and soon began working with Miles Davis, Sonny Rollins, Ella Fitzgerald, and J.J. Johnson. Perhaps his most famous appearance as a sideman was on John Coltrane's groundbreaking "Giant Steps" from 1959. In the mid-1960s Flanagan became Ella Fitzgerald's full-time accompanist for several years.
With a beautiful touch and swinging feel, Tommy Flanagan was one of the most popular sideman for scores of artists, having recorded over 200 records in such a role. His first record as a leader came in 1957 with Wilbur Ware and Elvin Jones, entitled "Overseas" as it was recorded in Sweden. He would continue to make records until 1997 and received five Grammy nominations in doing so. When asked about his style, Flanagan stated, "I like to play like a horn player, like I'm blowing into the piano. The sound of a piece—its over-all tonality—is what concerns me."