Paul Chambers
April 22, 1935 – January 4, 1969
| | |
| --- | --- |
| Instrument | bass |
| Birthplace | Pittsburgh, PA |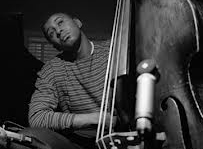 Bassist Paul Chambers was a leading rhythmic force in the 1950s and 1960s. He became one of the signature bassists in jazz history. Born in Pittsburgh but raised in Detroit, Chambers initially took up the baritone horn as a child. He followed suit with the tuba and didn't become interested in the string bass until 1949. Listening to Charlie Parker and Bud Powell and studying under a bassist of the Detroit Symphony Orchestra, Chambers began making headway in small bars of Hastings Street area and doing club jobs with Kenny Burrell, Thad Jones and Barry Harris. He did classical work in a group called the Detroit String Band, a rehearsal symphony orchestra.
In April 1954 Paul went on the road with Paul Quinichette for eight months before settling in NYC. He did his first recording with Quinichette on November 4, 1954 ("Moods" EmArcy). This session featured Quincy Jones as the arranger. Quincy was obviously impressed with Paul: he arranged Paul's second recording on December 7, 1954 (King Pleasure accompanied by the Quincy Jones band for Prestige). On June 6, 1955, Chambers did his first Blue Note session (The Eminent Jay Jay Johnson, Vol 3).
Four days later Paul recorded with trombonist Bennie Green for Prestige, and less than two weeks later he was back with J.J. (plus Kai Winding) for "Trombones For Two," two days of sessions for Columbia Records. Four days later he recorded for Savoy Records on Kenny Clarke's "Bohemia After Dark" with Julian and Nat Adderley. Less three weeks later the Adderleys had Paul on their own date for Savoy.
Paul did two more recording sessions in July, and eight more sessions before his first Miles Davis session on October 26, 1955. This date marked the birth of one of the classic jazz rhythm section, with pianist Red Garland and drummer Philly Joe Jones.
In 1956, at age 21, Paul also started recording as a leader. This allowed him to record some of his classic originals like Visitation, Whims Of Chambers, and Tale Of The Fingers (all in 1956). He did two more leader dates for Blue Note in 1957 ("Paul Chambers Quintet" and "Bass On Top"). In 1959 he started recording as a leader for the Vee-Jay label.
Paul was also much in demand as a sideman, yet he found time to form and maintain another incredible trio with pianist Wynton Kelly and drummer Jimmy Cobb, a unit that worked together for two and a half years starting in 1963. With all his playing and recording, most people are shocked when they find out Paul Chambers died at 33 years of age. His technique, feeling and intonation were impeccable, matched by his overall musicianship.>/p>