Jimmy Woode
September 23, 1926 – April 23, 2005
| | |
| --- | --- |
| Instrument | bass |
| Birthplace | Philadelphia, PA |
Available Leadsheets
Con-Fab

- Fritz Pauer

Swing (medium up)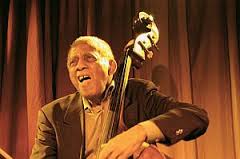 An important performer but decidedly less celebrated than deserved, Jimmy (James Bryant) Woode was a formidable presence in rhythm sections of bands lead by numerous jazz icons. A partial and curtailed list presents Sidney Bechet, Billie Holiday, Charlie Parker and for five years Duke Ellington.
His precision of time and solid understanding of music led him to be featured in one of the most heralded of all moments in jazz history: Paul Gonzalves' heroic 27-chorus solo on Ellington's Diminuendo and Crescendo in Blue. When listening to the cut, it will be highly apparent that Woode's pronounced and profound swing is a prime impetus for allowing Gonzalves' message to come through. The thick, broad and earthy hookup between of WOODe and WOODyard is only too fitting; they provide oxygen, stabilize the rhythmic soil, and generally give life as a beautifully constructed Ellington Tree.
In addition, Jimmy went on to further renown and success by taking charge of his situation and moving oversea to Europe. It was here that he joined another band lead by a legend; the Kenny Clarke/Francy Boland band. This band had two different drummers, which requires a superior bassist to lock in with multiple partners in time at the same moment. Mr. Woode also performed with artists ranging from Don Byas and Johnny Griffin to Mal Waldron and Ted Curson. Is it clear, based on his premier associations, that Woode could, would, and DID swing with the best of them!