400 Years Ago, Tomorrow

– Walter Davis, Jr

Alternating styles, time signatures and feels make this composition a wild ride! Solo piano arrangement with exclusive MP3 audio available.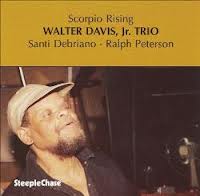 All selected items will be available for download after purchase.
Recording:

Walter Davis, Jr. - Scorpio Rising

Recorded on:

June 27, 1989

Label:

SteepleChase (SCS 1225)

Concert Key:

E-flat

Vocal Range:

, to

Style:

Swing (uptempo)
Piano - Walter Davis, Jr.
Bass - Santi Debriano
Drums - Ralph Peterson
Walter Davis, Jr., is a master at developing rhythmic patterns that elevate his melodic lines. This composition alternates two very different feels in this ABCD form. Starting with A: eight measures of medium Afro Latin, alternating from 3/4 to 4/4 and then immediately doubling the tempo into a swing feel to start B. The second section of the composition at B is eight measures of swing feel followed by C (twelve measures) followed by D (eight measures), then it starts over with the half time Afro Latin section. A very unusual and interesting composition. There are only two recordings of Walter playing this composition: this trio version and a solo piano version (Owl Records, December 4, 1979)
Our lead sheets show an alternate ending, more along the lines of trumpeter Woody Shaw's 1982 "
Master of the Art
"
version. Two choruses of out melody, the second time to the Coda, where the tempo becomes slower then
ritards
into a hold
(fermata)
on what would have been the first chord of letter D's last section. Woody Shaw's ending actually just does a slight
ritard
into this last chord, ending at D.
Walter first recorded this composition on a solo piano session in Paris, France, on December 4, 1979. Woody Shaw was next to record it (in a sextet format) in 1982, and Walter recorded it in the trio format
featured here
, on June 27, 1989.
On Walter's two recordings, he plays the A section (as is) as an interlude, soloing from B through D. On the
Woody Shaw
sextet recording, the group included both piano and vibes, so someone was always available to play the recurring A theme, letting the soloist continue soloing over the A theme.
Ending: Walter's recordings offer two ending variations.
1) On his solo piano recording he ends with an extended left hand tremolo at the last D section, arpeggiating and soloing on top of it.
2) On his trio recording, after the solos he returns to play two complete choruses of melody, then plays A again and vamps and solos over the A section, eventually fading out.
Our photo of Walter was taken by a neighbor, Paul Barth, a very talented photographer who has an interest in jazz. We were lucky to come to know him in the 1980s, when we didn't have a camera but did have amazing and unforgettable musicians as daily visitors. We are very grateful that Paul kept his negatives.
Solo Piano Arrangement:
Pianist Geoff Keezer's arrangement faithfully preserves all of Walter's intriguing rhythmic interjections and builds a lot of energy in the D section to set up the
D.C.
Kenny Drew Jr.'s performance
piano
at the Van Gelder Recording Studio communicates the excitement of the composition.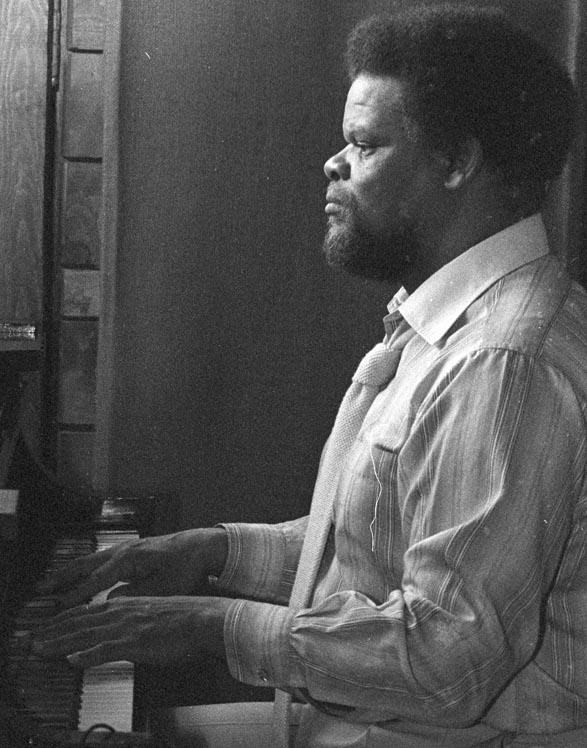 September 2, 1932 – June 2, 1990
Walter's piano playing was influenced strongly by Bud Powell, and he had that Bud Powell energy in his piano playing. Like many of the other talented players coming up in the 1950s, Walter's ears were wide open to everything good. For example, he listened to Stravinsky with Bird and Dizzy, and in later years, you could find Walter hanging with Mick Jagger and the Rolling Stones. Read more...