Paul Quinichette
May 17, 1916 – May 25, 1983
| | |
| --- | --- |
| Instrument | tenor sax |
| Birthplace | Denver, CO |
Available Leadsheets
Prevue

- Paul Quinichette

Swing (medium)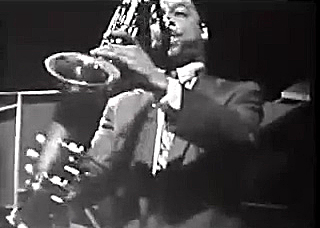 Paul Quinichette was known throughout his career as the "Vice Prez" because of the similarity of his tenor saxophone sound to that of Lester Young ("Prez"). However, several elements of his playing were unique, and in some ways even more expressive than Young's. For example, his melodic vocabulary was more limited and often simpler. He also often exaggerated his articulations and dynamic contrasts in a manner all his own. If Young's sound can be described as delicate, Quinichette's by comparison is almost vulnerable.
Paul's career began in the early 1940s. In the mid-1940s, he worked with Johnny Otis, then moved to New York in 1946 where he played with Louis Jordan, Lucky Millinder, Red Allen, and Hot Lips Page. The 1950s saw several high-profile collaborations for Paul: he worked with Count Basie during 1952-1953, Benny Goodman in 1955, recorded with Billie Holiday and Sarah Vaughan, and co-led two sessions with John Coltrane. Paul also led his own group in the 1950s, recording several highly regarded records. He left music in the 1960s and worked as an electrical engineer, returning in the mid-1970s with several more albums.
Though not widely known today, he was well-respected in his time. His playing, at once refined and ingenuous, lent an intimate quality to all his recordings. In this subtle way Paul's was like no other tenor sax sound, and his playing is still well worth being inspired by.